1978 (S) VW T2 - 2.0 (Type 4) RHD
Devon Moonraker (Pastel White)

Some history
When I bought the camper it had done 79803 miles. had been dry (and heated) stored for 23 years. The original 2L Type 4 engine was completely overhauled in 2002 at 79550 miles. Quite a lot was changed, too much to list but all tinware and engine bearers/hangers powder coated. New clutch values, guides, hoses, seals, Carbs, fuel pump, oil cooler, gear linkage, CV joints and brakes replaced/overhauled. All fixing were replaced with stainless steel. Completely original interior and 'pop top' in excellent condition with rock 'n roll bed, two bunks, island table, fridge, cooker, grill, sink, gas locker, underfloor water tank and all the usual but original storage cupbaords/compartments. I also have the 'birth certificate' from Germany. Tax and MOT exempt.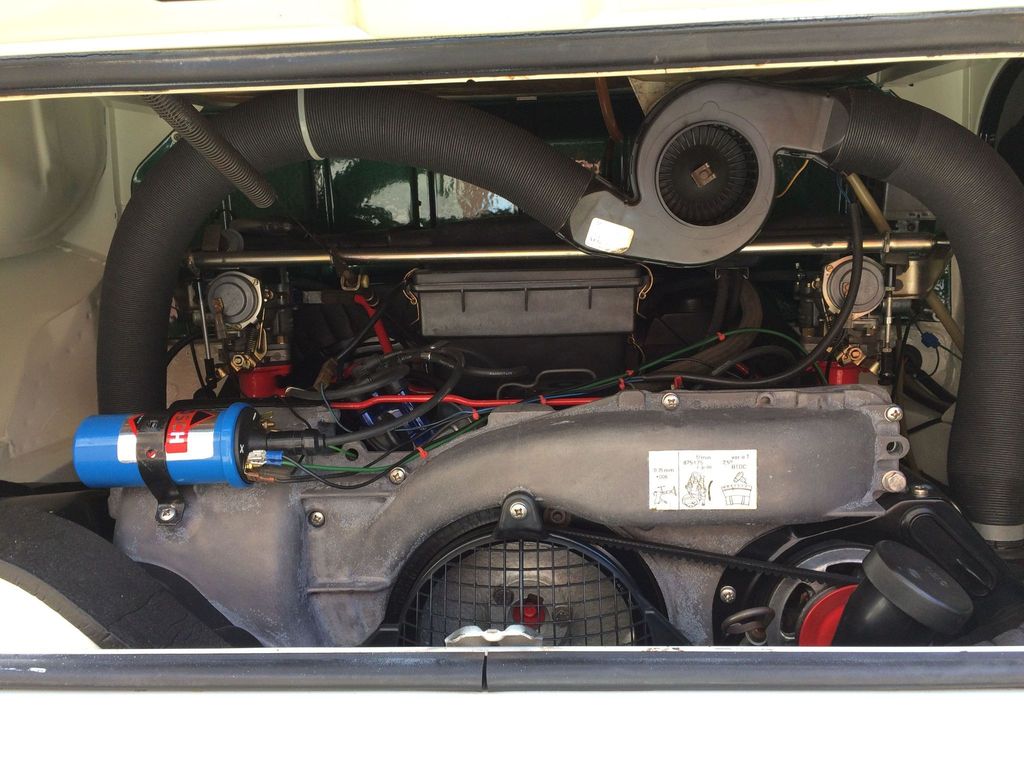 Not many 2.0 Litre Type 4 RHD in the UK.

This bus keeps up with everyday traffic and cruises really well.
2.0 litre – Type 4 – Engine
Original engine was fully rebuilt by previous owner. Many parts new, down to stainless steel nuts, bolts and screws. Engine is spotless and engine bay looks great. By which I mean has been maintained to a very high standard.
In testament to the engine, I drove the T2 down from a place called Memsie near Fraserburgh in Scotland (above Aberdeen). I was able to cruise comfortably at 60/65 mph however; each time a coach went past me I was sent into the next postcode. I will explain later what I found and had done to improve the driving stability and performance. I have full respect for the lorry drivers who all gave wide berth and flashed me in EVERY time.
I was aware that the engine had only done a little over 200 miles since being rebuilt, so through the winding roads of Scotland I drove her at 40/45 mph, building confidence with every mile.
The T2 was truly amazing all 550 miles. Engine was strong and responded wonderfully.
Interior
The interior is all 100% original. Original cabinets, seats, cushions, curtains, fold out beds, rock-n-roll bed frame, fridge/freezer, sink with electric pump, 2 gas burners + grill, seats, steering wheel, radio and speakers. I have to admit that the curtains where not doing it for me and I swapped them out for plain orange ones (kept originals). Roof lining is immaculate. If there was one thing, I would point out is that the unit nearest to the sliding door has a small chip where looks like cupboard door was not closed properly and sliding door hit it taking a small piece off.
Cushions are original but like new. Strong and firm, no rip or tears or even any wear.
The stow away table has probably never been used and is like new.
The 2 bunk beds, again, look like new and never used.
The flooring has original floor (vinyl) covered over with a hard wearing brown carpet.
Door cards all round in perfect condition.
Pop up roof is in perfect condition with no cracks or leaks.
Dash is perfect, not cracked and 100% original.
Exterior
Paintwork is in excellent condition. Yes the bus had a full restoration in the past but it was done to an outstanding standard. One very minor ding on rear but you cannot even notice it. Previous owner backed it into the garage a tad too far.
All window seals are in great condition with no cracks thus creating a very good seal and keeping water out.
Gutter lines are solid.
Underside has been Waxyoiled. VW specialist in Birmingham also confirmed that chassis and cross beam are 100% factory original.
Chrome work is clean and shiny.
Rims. These I had refurbished, ruts prevention treated, painted in Pastel White and lacquered to match the bus. Originals where sprayed in matt grey which did not do the bus justice. The VW chrome covers have been resprayed using a chrome spray. Though much better than the grey it once was, a new owner may wish to invest in new chrome ones.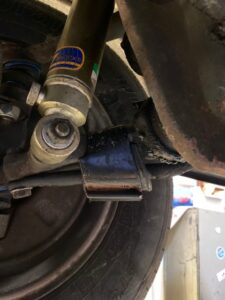 Shock Absorbers.
Drive down from Scotland was amazing as most was on the motorway. However, on side roads it was bouncy bouncy. VW Specialist confirmed that the shocks were factory originals.  I replaced them with GAZ adjustable shocks front and rear. These are really fantastic and you can so easily adjust them to make stiffer or softer depending on your ride preference.
Lowered the Bus.   
Please don't cringe, I only lowered her 1.25". 
The following work was carried out professionally.
LOWERING BUS: Place van on ramp remove wheels front and rear, strip out beam and place on bench. Strip beam of leaves and de-grease. Remove grub nut and elongate hole, weld in beam adjusters. Refit beam, install steering pin kit, refit servo, brakes, wheels etc.
Lower rear splines and install new torsion bushes new shocks.
The difference is as they say 'night and day'.
Bumps, what bumps.
Corners are so easy to take.
Mr Coach driver could not budge me.
Probably the most noticeable change I made to the bus giving her stability and driving performance to keep up with everyday traffic.
New Distributor.
Changed Distributor for new Petronix with electronic ignition and vacuum advance.


New CSP Gear Shifter.
OK, unless you like changing gears as if you were rowing a boat something had to be done.
Installed CSP Gear shift unit BUT kept the original should new owner want to put back as was.
Note. The CSP also improves gear changing. Its another one of those night and day' difference.
Rear Seat Belts Safety First!…
Installed rear inertia seat belt in factory bus fittings.
Installed fixed 3 point on offside by cabinets, place seat belt mounting plate in fuel tank area.      
Power Steering
A birthday treat. I had installed LiteSteer Electronic Power Steering.
The work was carried out by LiteSteer themselves on the south coast.
Let me say that I was like a Cheshire cat all the way home.
OMG – what a difference.
The great thing with this setup is that you can revert back to original very very easily.

Litesteer is a retro-fit, speed sensitive, electronic power steering system that makes low speed manoveuvres so easy.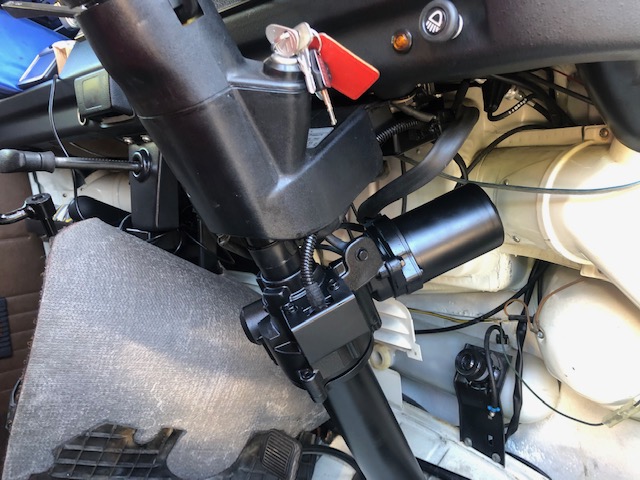 Braking and Handbrake
This bus had been stored properly for a long time and previous owner freed up the the braking system when in storage.
At cost to me I asked the previous owner to take the bus for an MOT as if I did purchase it I wanted some assuarnce and confidence in the brakes. The bus failed on 3 points:
Horn not working
Windscreen washer not working
Nearside Rear Service brake excessively binding
Resolution:
Horn – cleaned contacts and that was it
Windscreen Washer. Had not been pressurised. Pumped it up with a cycle pump.
Rear binding brake (nearside) full strip down, clean and put back together.
This got me home with absolutely no issues. HOWEVER, I wanted a bus in top condition so I had all four corners fully replaced with new dics, brake shoes, cylinders, fitting kit, cables, pipes, etc. I did not scrimp and used quality parts.
The result – she stops on the penny – every time.
Handbrake operates and properly hold bus.
Under Dash Tray
When I had the Litesteer power steering installed the under dash tray on drivers side had to be removed. The under dash tray was so very useful, so using a Dremel I slowly cut the tray and created two pieces. Hope you will agree that it turned out wonderful and is completely secure.
Updated Lighting
I am safety conscious and have replaced the bulbs with LED version (Interior and exterior)
The front headlights bulbs give a much better projection as they are 45% better than the filament version. Where I felt led would spoil the aesthetics of the bus I replaced with Philips bulbs.
The dashboard lights were far too dim in my opinion so have replaced them with tiny led ones that significantly improved the speedo and gauges.
Tinted Windows.
Though the drive down from Scotland was truly amazing I ended up with a tanned right arm. The T2 does not have any tinting resulting in complete exposure to the sun.
I didn't fancy more journeys like that so I had the bus windows tinted. Not Limo black but a light tint with UV protection. Behind the driver the windows are slightly more tinted than the front cabin. On normal days you cannot tell that windows are tinted. On hot sunny days you can tell windows are slightly tinted. Everyone that has seen the bus says it's the perfect level of tint as many people love to peer inside the bus when parked.
Of course if you don't like them then removing them is straight forward. You can do this yourself.
Even more Extras
My T2 came with as huge water tank below the front cabin.
When I had the bus lowered I also had this water tank removed but kept it if future owners wanted to make use of it. Very simple to attach if required.
The previous owner also gave me a fully powder coated towing bar kit. He never used it and neither will I.
Also I have boxes of spare from CV boots, filters, gaskets, fuses, hoses, bulbs, nuts, bolts screws, etc. All good stuff to keep the bus in tip top condition.
The T2 comes with 2 covers. One that is a cloth based covering that is handy for indoor storage and also an exterior waterproof (but breathable) cover should you wish to keep outside.
What more can I tell you.
I bought the T2 2 years ago.
When I was approx. 9yrs old my motor mechanic father bought a T2 back in the late 70's. The trips we had especially around Europe were amazing and the memories are still with me. 2 years after the trip I lost my father very suddenly.
I decided that building great memories is something very important and I looked for 3½  years to find a VW T2 that I could own and embark on the same journey with my two munchkins.
However, with Covid in 2020 our plans could not go ahead. This year the outcome does not look great for venturing into Europe.
The T2 was stored for approx. 23 years by the previous owner who really did not do many miles in her as he also had an RV. He was more interested in perfecting the bus. You will see that he replaced literally everything, though I have to admit that a few things I did not like. Like the see through blue dizzy cap. Blue leads etc. BUT overall, he did a fantastic job with the bus, especially the engine.
He also fitted a stainless steel exhaust. You will see his enthusiasm in the detail such as painting the firewall (on pics you can see this in green hammerite), where he has painted service areas in red ie the sump cover where you would service the oil, etc. He used many new zone panels in the engine as he gave me the old ones.
I travelled 550 miles to view something I had been hunting for just over 3½  years. Had seen so many T2s but non as well kept and original as this one.
I have done so much more to this bus but I did not want to stray too far from originality.
The T2 is genuine and also mileage is correct, albeit, original engine had a total rebuild. She drives and handles exceptionally. Really strong pull from engine and gearbox is faultless.
All body seams are perfect. If I was going to grumble I would say the door seal rubber trim could be replaced. They are not gone or deteriorated, they were glued into place and I think replacing them would tidy this up. But again, I am being picky.
The camper is ready to use immediately. If new owner wishes to use straight away I cannot call out anything that would need doing. She also has 2 gas cylinders (one is totally full).
Oh – I am wrong. There is one thing. Since I removed the huge water tank that was under the front cabin you would need a water container. Depending on capacity these are very cheap to source.  
Heater. All work properly and hot airflow is great.
Window mechanism (Front) perfect working order.  
Radio Cassette player – 100% original and working.
Dash lights – all working and where possible I have replaced with LED equivalent.
Of course there is always something that needs to be done but nothing major at all.
Loads of invoices and history
Have so many receipts and so many pictures so show the work carried out.
I have not scrimped at all with this bus. She was kept for many years in the best condition possible and I have to admit – "hats off to the previous owner".
I do hope you can see that I was really particular what I wanted, hence, I spent 3.5 years looking for the literally the perfect bus.
She was some miles away but for the perfect bus you have to travel. I have been all over the UK in those 3.5 years. Some great buses out there but I learnt where and what to look for, whats is good and bad, what is cosmetic and what is a cover up. I have a good "motor head" on my shoulders so was not a novice.
Extras
Full Service
Valve clearances
Oil change
Timing and road test
New oil pressure switch and test
Air Filter
Fuel Filter
New plugs
Carb tune up and balance
Rocker Cover gasket
Gearbox Oil

Gearbox Oil Seal
Flywheel Oil Seal
New rear brake shoes & fitting kit
New Premium Rear Brake Drum
New rear brake cylinders
New front Brake Discs
New Premium front Pads & Fitting kit
New brake pipes at front
Bled brake system and carried out laser tracking
Facet fast road fuel pump and 6mm barb fittings.
Fuel filter with changeable filter element.
Malpassey fuel pressure regulator and sytex inline fuel valve with 6mm brass fittings for both
Late bay Fuel Sender VDO
Fuel Filler neck and breather hoses and fittings
Fuel Lines and clips
MEYLE Ball Joints (x4)
SSP Beam Adjusters
Rear Torsion Bushes
Steering Idler Pin Kit
FRONT Anti Rollbar Kit
Removed fuel tank, replaced with new fuel sender, filler neck and breather hoses                             
Removed clutch and replaced flywheel oil seal and gearbox oil seal and refit clutch kit.
New wipers with Stainless steel blade assembly.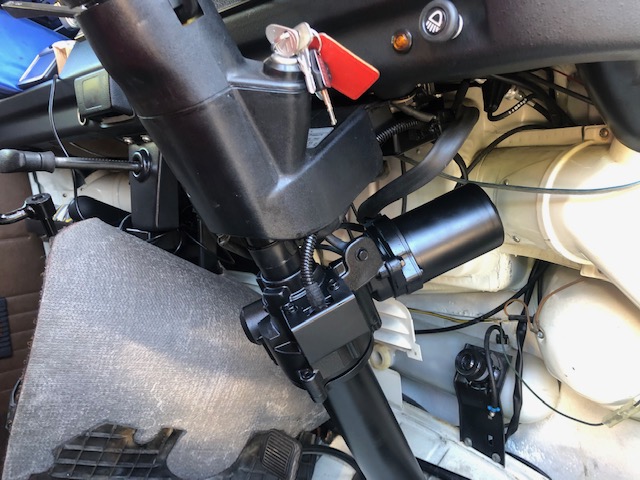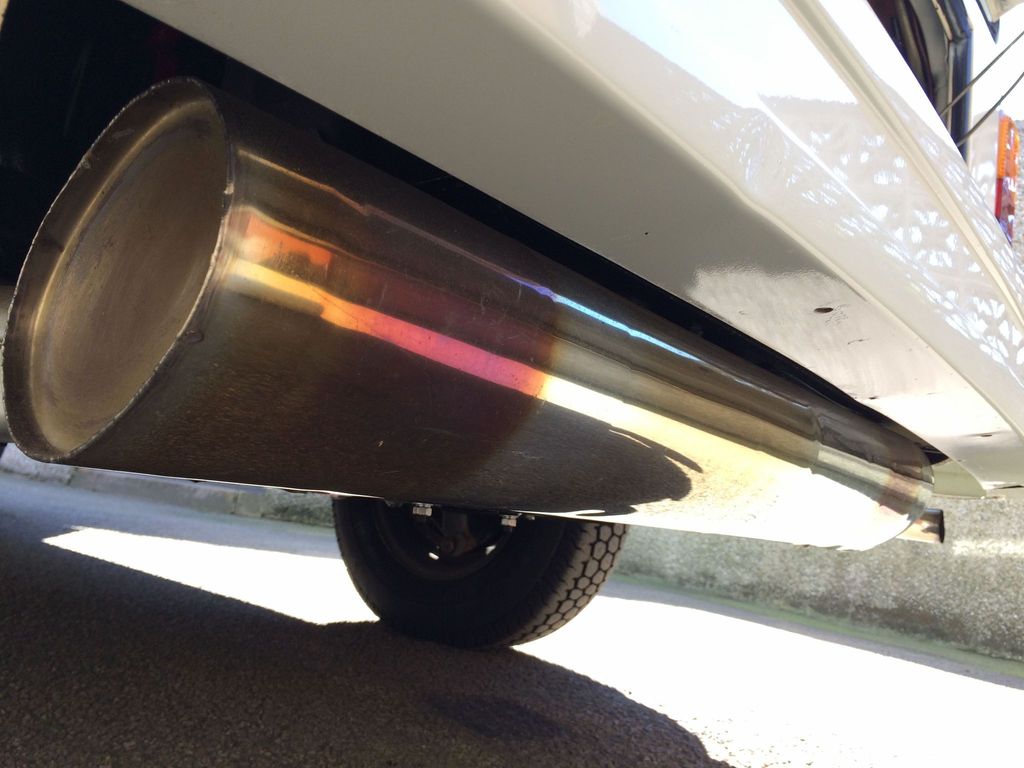 Owner's Instruction Manual
Publication from the Auto Camping Club

Has loads of content to keep your camper in top condition, illustrations, tips, etc.
Type 2
1978 Volkswagen
Owner's manual